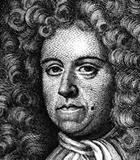 London, 1659 - 1731, Author of modest origins, attended the seminar dissident Stoke Newington, but soon left to devote to the textile trade, traveling through several European countries.
Tangled in politics, in 1695 he entered the government, and in 1701 scored some success with the true English novel in attacking national prejudices in defense of his beloved King William III.
After failing in business, worked as a journalist for the pro-government The Review and in 1719 he published his first work of fiction, Life and extraordinary and marvelous adventures of Robinson Crusoe of York, a work that won great popularity, based on the true story the sailor Alexander Selkirk.
Defoe is one of the first farmers of the novel, literary genre he helped popularize in England for what is considered the "father" of English novelists.