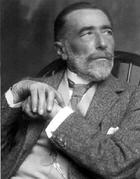 Joseph Conrad (1857-1924) conceived adventure Homeric way: as a moral drama. Like Ulysses, his heroes are constantly strive to make decisive choices to settle as dignified as possible in precarious universes and dream in a difficult redemption involving a return to the assurances starting the moral world shared by all those who can considered "one of us".
Conrad's heroes are perhaps too human, and so have our sympathy in advance. Hence, too, we finish hard to read stories like that counts LORD JIM (1900) without feeling that we have changed a bit, we have acquired some of the tragic certainties to which comes the problem.
Conrad, who also HEAD OF DARKNESS (Heart of Darkness), THE NIGGER OF THE "NARCISSUS" (The black of the "Narcissus", 1987), and VICTORY (Victoria, 1915) presents in LORD JIM intense scene a world in which the old ideals of duty and honor conflict with the cynical utilitarian morality that seems to prevail in contemporary societies.