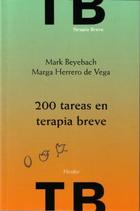 Year of publication:
2010
200 jobs in brief therapy is a "toolbox" that offers psychotherapists of any orientation an array of technical resources and key practices for successful implementation in either families, couples or individuals.
_x000D_
Each task is presented as a tab, led by a series of symbols that inform its key features quickly. In addition, we discuss indications and contraindications, what to consider when using it and its possible variations. Although most of the tasks described in this book are part of the tradition systemic, strategic and solution-focused, are also adapted from hypnosis exercises, cognitive behavioral therapy and positive psychology.