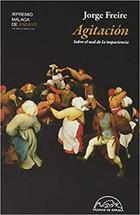 Year of publication:
2020
Freire, in his third book –with which he won the XI Málaga Essay Prize– argues that, if society has adopted the practices of a perpetual carnival, stopping to think is a good form of insubordination.
And he does so following the Frenchman Blaise Pascal who, almost four centuries ago, claimed that all our ills stemmed from a single cause: our inability to stay still in a room. That old problem, perhaps unsolvable, has been shedding its skin until it reaches the present in unlikely ways.
Such is the incessant mania that makes the contemporary subject untimely, always in between anticipation and experience. Spurred on by the constant craving for new experiences, obedient to the mandate of compulsory enjoyment, Homo agitatus recalls that unfortunate mythological character who, tied to a burning wheel, was forced to turn without end.
«Jorge Freire's is not a new book, ...read more