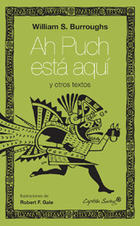 Year of publication:
2012
Encuadernacion:
Rústica con solapas
Translation Lluïsa MorenoIntroducing Felipe Fernández. Armesto
Translation by Ursula Barta
Zweig in this work unearths the reasons why Amerigo Vespucci gave his name to a newly discovered continent, a checkered history and errors that become truths. Vespucci was not a liar or a cheat; not intended to be a great philosopher or seek the glory of giving his name to the New World.
Glory made by chance, a printer who, in turn, never dreamed she would give a stranger so renowned. Zweig rightly follows the development of this story that has the charm of a novel, turning a dry subject in a passionate, vibrant story of interest and mystery. In other words, humanizing a character gets shredded by scholars, in a novel that is history and a story that is life.
Illustrations by Robert F. Gale
In 1970 William Burroughs and artist Malcolm McNeill began a small joint pr...read more