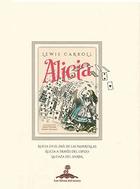 Year of publication:
2019
Go back with Alicia to the wonderful country where white rabbits wear watches.
An adaptation of Lewis Carroll's famous novel Alice in Wonderland, narrated with simple and understandable language for children and illustrated with the magnificent drawings by Italian designer Manuela Adreani, who capture all the magic of this fantastic world. Children will enjoy the most famous characters in this beautiful story: Alice, the White Rabbit, the Blue Caterpillar, the Cheshire Cat, the Mad Hatter, the Army of Cards, the Queen of Hearts – The beauty of the illustrations and the careful presentation in large format and padded lids make this book a magnificent gift.
With this classic of literature, you will make the little or great reader go into the world of letters and taste for them.