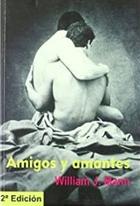 Year of publication:
2005
"Lovers: those who love. Those who support and care for each other, those who stay together, who share fears and dreams. It would be good for both Lloyd and Javitz. My lovers. Straight people use the word lover when they want to say sex; gay people use it when they want to say love. What if Lloyd and I haven't had sex in months? That's not what lover means, not to us. Javitz and I stopped having sex seven years ago and he has not ceased to be my lover, even if we say yes and the rest of the world, with the possible exception of the bad languages of Provincetown, he believes so."
Friends and Lovers is a sincere and realistic novel about the meaning of gay life in the '90s. It is also a story about sex, safe sex, casual sex and love, young lovers, mature and ex-exams lovers.
Few novels have so convincingly penetrated the complexity of the relationships of love and friendsh...read more