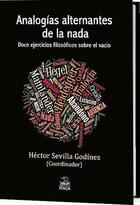 Year of publication:
2015
This book is the product of the collaboration of a heterogeneous group of Mexican philosophers and thinkers who in their themes and reflections find a connection with some of the ways in which it can refer to nothingness, either to generate metaphysical abstractions or to concretize a thought specific.
     The analogy is, properly speaking, the ideal device to refer to what is nothingness, beginning with the fact that its simple reference distorts it, therefore, a thing that contradicts its modality of not being something. However, in the way of non-being, of denial of the other, of suicide, extermination, darkness, non-identity, negativity, non-being, abandonment of being or as a nihilistic configuration of the deity , Nothingness can be present in various fields of present discourses and philosophical problems.
     This volume does not have the aim of grouping simila...read more