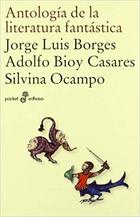 Year of publication:
2008
"Old as fear, fantastic fictions are before the lyrics." Thus begins the prologue of Bioy Casares to this splendid and complete anthology of a genre whose origins sink into the mists of time and which, as Palmerín of England says, is "the golden fruit of the imagination".
From the Bible to H.G. Wells, by Homer or The Thousand and One Nights by Edgar Allan Poe, Lewis Carroll, Kafka, James Joyce and Julio Cortázar, the fantastic story has adopted many forms, techniques and themes to always adapt to the constant search for novelty and surprises of the readers After a penetrating prologue that dissects the gnero and provides the keys to understand its evolution in the most diverse cultures, here the reader will face the best fantastic stories of all time.
Jorge Luis Borges, Adolfo Bioy Casares and Silvina Ocampo, three of the most prestigious and sensitive specialists of the...read more