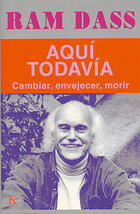 Year of publication:
2002
In 1971, with the publication of the BEST-SELLER BE HERE NOW (being here now) Ram Dass became an icon for a generation of spiritual seekers. Two decades later, after several written books, Ram Dass ended an essay on aging, when he suffered a cerebral hemorrhage that almost ended with his life. Result of this suffering is this new and fascinating book, here still.
In this way, Ram Dass, spiritual leader of the Woodstock generation, returns to explore the joy, pain and opportunities presented to him to the human being in the second half of him. Written with the humor and intelligence that characterizes him, Ram Dass will still in here still biographical anecdotes with meditation exercises and teachings full of wisdom.
"Aging is not easy for most of us. Nor is it to live, nor die. We fight against the inevitable and we all suffer for it. We have been trying to find another ...read more