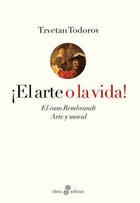 Year of publication:
2016
"Header book, to read and reread". Joélle Elmyre Doussot (Dossier-de-l-Art)
What is an artist? How do your life and work relate, if you do? What do you sacrifice in one to be re-born in the other? These questions go through Tzvetan Todorov's essay on Rembrandt; a text that, while analyzing the paintings of a descollante creator, illuminates the way a creator (not just Rembrandt) reflects in his work what binds him to humanity and distances him from his own person.
In the second essay that composes this volume, dedicated to art and morality, somehow those questions return, although under another mask. What is at the center of reflection is the work, not linked to life in capital letters, but to the morality of that life and to the moral effects that the work produces. Of course, they can be much more complete than the morality of the artist. Therefore, once again the ques...read more