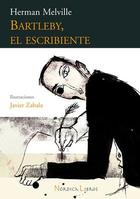 Year of publication:
2005
Encuadernacion:
Tapa Dura
Bartleby, the scribe is one of the most original and moving narratives in the history of literature. Melville wrote this story in the mid-19th century, but for him time does not seem to have passed. He tells us the story of a peculiar copyist who works in a Wall Street office. One day, all of a sudden, he stops writing, relying on his famous formula: "I'd rather not."
No one knows where this scribe comes from, he prefers not to say it, and his future is uncertain because he prefers not to do anything that alters his situation. The lawyer, who is the narrator, does not know how to act in the face of this rebellion, but at the same time is attracted by such a mysterious attitude. His compassion for the scribe, an employee who does not follow any of his orders, makes this character as strange as Bartleby himself.
The book is illustrated by Javier Zabala, National Enlightenment Prize 2005.