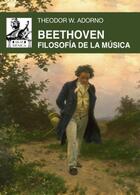 Year of publication:
2020
The meeting of two colossus of Western culture could only give a result: a great work of music and music philosophy.
The double training, philosophical and musical, from Theodor Wiesengrund Adorno tine of a special color The many writings that he published on theory and practice of music, including the magnificent monographs about Richard Wagner, Gustav Mahler and Alban Berg. Only a composer was resisted, in a certain sense. Nor in a single period of his active life he left an adornment of annotating thoughts about the figure and the work of Ludwig van Beethoven, but never came to close a global vision that his intellectual honesty would judge enough coherent to justify a book a thousand times announced And as many applaces.
Paradoxically, the number of notes on Beethoven found in the legacy of him and ordered by the Rolf Tiedann editor has ended up constituting musical ...read more