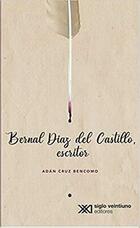 Year of publication:
2021
Binding:
Rustic with flaps
There is no reader of the true history of the conquest of New Spain who has not been delighted with the way of narrating Bernal Díaz del Castillo. Everyone - the most, the least - have talked about the tasty way of recounting one of the greatest events in the history of the Old and New World, by a soldier who apparently did not go to school.
Literature has, of course, given the Spanish conqueror a relevant place. The literary significance of him is manifest. However, what has prevailed is the historical importance of the work, since most of the essays, articles and research work have basically focused on the veracity of the events.
In this book –which for no reason a Bernal reader can ignore–, Adán Cruz Bencomo explores one of the issues that have most aroused the interest of the New Spain chronicler: his writing skills, which unfortunately has not received enough attent...read more