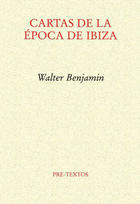 Year of publication:
2008
Benjamin knew little or nothing of Ibiza when he decided to make his first trip in April 1932, but improvisation determined many of its steps, and often it had to do with the changing economic situation.
It seems, however, if we look at his writings, that the Mediterranean was revealed in Ibiza in a peculiar way, as fellow travelers of the time also reflected in their literary, pictorial or photographic works. The feeling of stepping on an "archaic" land in all its manifestations, from architecture to economics, always with "the most unspoiled scenery I have ever encountered" miraculously preserved by being "outside the movements of the world, including civilization "was common among the select few visitors at that time, and she tells Benjamin to Scholem in his first letter, written just three days after arrival.
Among the anxiety and despair, not rarely pokes light Medi...read more