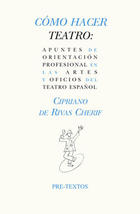 Year of publication:
1991
"Technique of the actor", "Theory and practice of dramatic literature", "Scenography and auxiliary crafts", "The theatrical business". Such are the chapters of this book that constitutes a true theoretical-practical manual of recitation, acting, characterization, staging and theatrical direction.
Rare book in Spain, is published today with exceptional character for being an unpublished work of who was pioneer of theater direction, Cipriano de Rivas Cherif (Madrid, 1891 - Mexico, 1967), coinciding with the centenary of his birth.