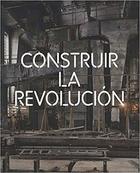 Year of publication:
2011
This book traces in an extraordinary way the trajectory of Russian avant-garde architecture during the intense period between 1915 and 1935.
Architects such as Konstantín Mélnikov, Moiséi Guínzburg and the Vesnín brothers designed buildings in whose innovative style the energy and optimism of the new Soviet socialist state took shape.
Richard Pare, a leading architectural photographer, has documented the current state of these iconic buildings for fifteen years. His spectacular large-format images are juxtaposed with period photographs, contemporary publications and numerous drawings and paintings by constructivist artists such as Malévich, Tatlin, Popova and The Lisitski.
This book is part of an exhibition that was inaugurated at the CaixaForum Barcelona from February 3 to April 6, 2011, and at CaixaForum Madrid from May 26 to September 18, 2011.
An essent...read more