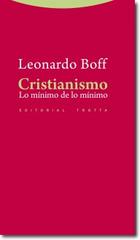 Year of publication:
2013
Can you briefly say what is and what Christianity claims? After fifty years of theological reflection, Leonardo Boff condenses in an accessible vision of Christianity.
Nearer the sophisticated doctrines and traditions, dogmas and rituals accumulated over two thousand years of history, the author proposes in this book express the essence of the Christian message. A Christianity where are all the contradictions of the human condition, but also a hopeful vision of man and the universe, a look at Mystery fontanal communicating and wants to be known.