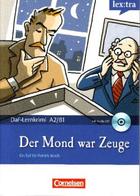 Year of publication:
2009
Scandal in the Brothers Grimm Museum: What have the people to do with the theft of a valuable manuscript? Who is the mysterious client? Patrick Reich must solve the case within two days.
The Lextra readers can be grouped into Those for A1/A2 level and Those for a level above A2/B1. Illustrations and footnotes help with comprehension; exercises in the appendix offer additional practice. Some Further Also include cultural background information. An audio-book version of the story is Also included.