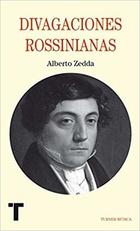 Year of publication:
2014
These "ramblings" pick up the heterogeneous reflections of a musician who coincidentally found Rossini's work, and was so fascinated by it that he decided to devote much of his energy and his life.
It is not a biography, nor a technical-artistic analysis of Rossini's production: it is a story written by an enthusiast of his work, and the fruit of long experience. Musicians, musicologists, singers, conductors, listeners and fans will find here suggestions, advice and useful reflections to deepen the repertoire of this composer, as easy to approach as difficult to understand.