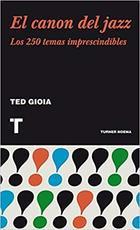 Year of publication:
2013
There is a series of "classical" themes, the standards of jazz, that you have whistled, hummed or even played more than once, perhaps without knowing the title or the composer, or the story behind them. And, although you do know who and how they composed "Milestones" or "Blue Moon" or "St. Louis Blues ", could you say who his most skilled interpreters have been, the best recordings of that subject or in what famous soundtracks does it appear?
All these data and more, along with juicy anecdotes, opinions, a bit of criticism and even some rumors, contains this torrential book, all a display of erudition, love of gender and narrative capacity of Ted Gioia, which this time focuses on the classical repertoire of jazz after writing the history of this music and its performers (History of jazz, in this same collection).
The best introduction for new fans, the most useful guide ...read more