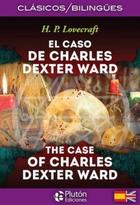 Year of publication:
2017
The case of Charles Dexter Ward is a short novel written by H. P. Lovecraft between 1927 and 1928. It can be considered as one of the main works of the author.
Based on the well-known affair of the Salem Witches in 1692 and set in his native Providence, the author recounts the strange events surrounding the protagonist (Charles Dexter Ward) and his mysterious ancestor, the occultist Joseph Curwen, who disappeared on the eve of the American War of Independence. Excellent combination of police tale with the Myths of Cthulhu with an exciting magical duel as the end.