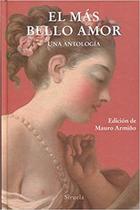 Year of publication:
2017
Hand in hand with the greatest masters of universal narrative, this exquisite selection proposes an exciting itinerary through loving sentiment in its many variations.
From the Song of Songs we know that "stronger than death is love." The impetus for this idea has spanned centuries, it has shaped customs, it has invaded literature, music or painting in very different ways over time. Its apparent natural origin has been loaded with nuances, gradations, and deeper forms as civilization and culture have modified all aspects of society. Heir to the changes brought about by the Enlightenment under the banner of individual freedom, the nineteenth century modulated love in a very diverse way, especially from the moment when women took charge of their feelings so as not to admit in that regard more authority than herself.
In this anthology, which gathers the best prose from the ...read more