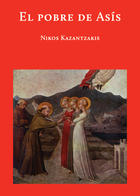 Year of publication:
2015
Encuadernacion:
Tapa Blanda
In this work, which is the first time that the Spanish language is translated directly from Greek, the author literally narrates the life and work of San Francisco, an Italian religious who led a Christian renewal movement that, focused on the love of God , poverty and cheerful brotherhood, had an immense echo among the popular classes and made him a very venerated personality in the Middle Ages.
 
Nikos Kazantzakis left a multifaceted narrative work, under which he became a contemporary thinker of the Spirit and the Letters. The international repercussion and diachronic validity of his work are reconfirmed day by day by the multiple editions in foreign languages and, therefore, his figure is justly recognized as one of the most important contemporary Greeks. He is also the modern Greek writer who has translated the most worldwide.