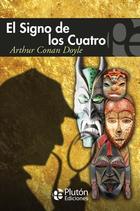 Year of publication:
2018
"The Sign of Four" is the second novel by Sherlock Holmes and his companion, Dr. Watson. The novel chronicles the mysterious disappearance of a great treasure trove of exotic lands and the unexplained deaths left in its wake by those responsible for theft. It is up to the famous detective duo to recover the treasure and bring those responsible to justice, thanks to Holmes' almost infallible observational ability, and Watson's help and bravery. They also make their debut several characters that will be immortalized from the detective's upcoming adventures.
It was published in 1890 by the English writer Arthur Conan Doyle (1859–1930) and continued with the growth of fame and acclaim of his most celebrated creation, Sherlock Holmes.