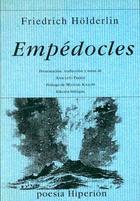 Year of publication:
1996
Death of Empedocles is the only dramatic attempt to Hölderlin; the three versions of the tragedy about the suicide of this philosopher, poet, physician and politician, who served in the fifth century BC in the Greek colony of Sicily, however remained inconclusive.
plans, versions and fragments poetological: In this book all the texts that Hölderlin wrote to meet projected tragedy. The inclusion in the same volume of all texts preserved in the chronological order in which they were conceived, reinstates the process of formation of ideas of Hölderlin in a pivotal moment of his poetic evolution: the period between the wording of the version final of the novel Hyperion and the composition of the great poems that precede the years of madness.