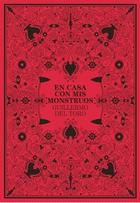 Year of publication:
2019
Guillermo del Toro is considered one of the most important Mexican filmmakers in the international arena. Films such as The Shape of Water and The Labyrinth of the Faun have received unanimous acclaim from critics in addition to conquering the public.
As if we were making a casual visit, these pages open the doors of the house where Guillermo del Toro lives and works daily, giving us some keys to his creative universe, through paintings, sculptures, comics, objects from his films and other oddities of his films. his personal collection, reminiscent of the old cabinets of curiosities, These pieces that make up the exhibition At home with my monsters are also incorporated along with a text by Eugenio Caballero - Oscar winner for his work on The Labyrinth of the Faun and Curator of the exhibition - a fragment of an unpublished interview with the filmmaker, photographs and graphic art.