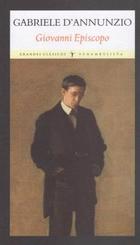 Year of publication:
2017
To free himself from the ghosts that haunt him, Giovanni Episcopo confesses the circumstances that led him to commit a crime. During the sharp monologue, he rambles, and his invisible unsteady interlocutor presses him to stick only to "the facts"; But is it possible to recount only what happened when a series of moral events capable of transforming the victim into an executioner underlie the factual?
Humble employee with an anonymous existence, mistreated and humiliated by his colleagues, the protagonist sees that something changes in his life when he meets Ginevra, and his main harasser, the overbearing Giulio Wanzer, decides to leave the city. But he realizes right away that it's all a mirage. Only the birth of your son Cyrus will give you hope...
In this atypical work in the production of D'Annunzio, close to the world of Gogol or Dostoyevsky, the Italian writer delves...read more