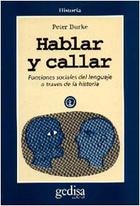 Year of publication:
2001
Beyond the purely instrumental aspects of communication, in all ages language has played an important role in the differentiation of social classes, the self-assertion of elites or national identities and strategies of 'good form' with which aspires to be socially accepted.
Since the early Middle Ages to the Modern Age, Peter Burke representative cultural fields shown in different social and political functions of language use. Among other things analyzes the popularization of Latin or resistance to this language as medium of discourse of power; the emergence of languages derived from Latin, as the Italian, who served as a means of identifying cults groups Florence.
Aspirations for a perfect use of language in conversation resulted in countless manuals that led to the end of the exchange of pure empty formulas content. Finally, knowing silence at times also has its co...read more