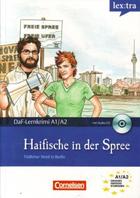 Year of publication:
2011
The real estate company Nova Spree planning the construction of office buildings on Berlin's river Spree, and meets with fierce resistance of the citizens. Who is the Spree? This question is overshadowed by a murder. Private investigator Elizabeth Aumann determined.
The Lextra readers can be grouped into Those for A1/A2 level and Those for a level above A2/B1. Illustrations and footnotes help with comprehension; exercises in the appendix offer additional practice. Some Further Also include cultural background information. An audio-book version of the story is Also included.