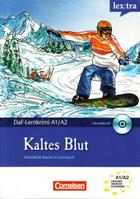 Year of publication:
2011
During a Skiwochenendes in Garmisch occurs within a group of young people to a life-threatening conflict. Markus Berg determined and wants to prevent the worst. The case takes a dramatic end.
The Lextra readers can be grouped into Those for A1/A2 level and Those for a level above A2/B1. Illustrations and footnotes help with comprehension; exercises in the appendix offer additional practice. Some Further Also include cultural background information. An audio-book version of the story is Also included.