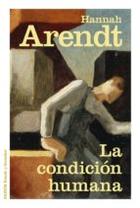 Year of publication:
2016
At the same time historical analysis and political proposal of wide philosophical scope, The human condition is not only the key to all the works of Hannah Arendt, but also a basic text to understand where the contemporary is heading.
The present book is a penetrating study on the state of humanity in the contemporary world, viewed from the point of view of the actions of which it is capable. It proposes a consideration of the human condition from the advantageous point of view of our most recent fears and experiences. The essay draws a conception of man that is strictly incompatible with totalitarianism, and which in turn allows us to lay the foundations for a new idea of history in the world. That it depends on the men themselves that this appears as a desolating contingency, that is, that at any moment we can return to barbarism.