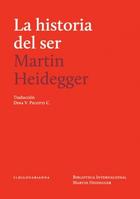 Year of publication:
2011
Encuadernacion:
Tapa Blanda
The publishing house The thread of Ariadne in co-publishing with the Martin Heidegger International Library published for the first time in Spanish The history of being, a key work of the German philosopher.
The text is a translation of volume 69 of the German edition of his Complete Works and brings together the treatises "The history of being" (1938/40) and "Koinon. From the history of being "(1939/40). Both are in close relationship with the Contributions to philosophy (About the event), which constitutes an objective context with other treaties of the time, such as Meditation (1938/39) and On the beginning (1941), also poured into Spanish.
The writings that now reach the Spanish-speaking public make up an attempt to inaugurate in a new impulse the structure of thinking according to the history of being [Seyn] outlined for the first time in the Contributions.
I...read more