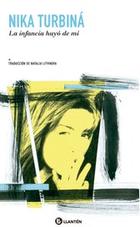 Year of publication:
2018
I receive my friends in my new home, I show them my sufferings hanging on the walls and I offer them the happy flashes of the sun. I kept them in my poems.
I press my hat in my hands. The crowd approaches. "It's Nika, the one who once wrote poems," someone laughs throwing his cigarette into space.
Fame, if it comes and is deserved, if people recognize it, it will not disappear. Maybe someone remembers me, it does not matter that they are not more than 20 people.