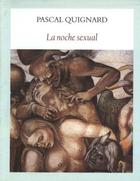 Year of publication:
2014
In 2005, two years before The Sex Night was published in France, Pascal Quignard traveled to the United States. His stay in the country coincided with the vote of the law on decency in the media. The author defined this law as "American law against indecent images."
Accused of fearing that censorship would cross the ocean and reach our continent, the author decided to write a work that gathered a selection of the most beautiful erotic images he had been collecting since adolescence.
The sex night is this "collection of indecent images", but also a volume on the sexual world, a burning city, an ardent collection of erotic stories, the portrait of a dark, throbbing world and a meditation on the night inside.
Pascal Quignard, considered one of the most important French writers of recent decades, signs here one of his perhaps most unexpected and personal works.