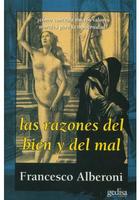 Year of publication:
2001
How to develop new moral values ​​to modernity?
Collection: Freedom and Change.
It is not true that morality in the modern world, has been loosened. Quite the contrary, it has become increasingly tyrannical. This is the thesis and the response to the speech exposes Alberoni permissiveness of the liberated morality, good and evil, overcome and mythologized. Never before have we been so severe against our aggressiveness, so intransigent when it comes to condemning all forms of inequality or privilege.
For Alberoni, modern society has only eliminated certain sexual -the links, for example to replace them even more binding. The most important difference between the modern world the traditional is, however, another: today, individual and group are compelled to constantly look for new things, erratic desire for which there are no goals or ultimate goals, which only evid...read more