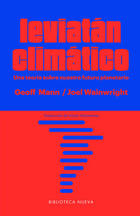 Year of publication:
2018
Encuadernacion:
Tapa Blanda
Geoff Mann and Joel Wainwright
Climate change is not a threat looming in the distance. It's here. The political consequences, however, are yet to come. The central thesis of this book is that the world is heading towards a state of exception led by an alliance between the United States and China to face the climate crisis. It will be a new planetary regime, this new order is called by the authors "Climate Leviathan". The thesis of the book is not that global warming is going to transform or destroy everything. The objective of this book is to place the topic of climate at the center of political discussion and seeks to be a contribution to political theory.