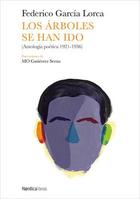 Year of publication:
2016
Encuadernacion:
Tapa Dura
The trees are gone, title of this minimal anthology of the Granada poet, inspired by the beautiful song "Talaron three trees", collects, in only twenty texts, the different poets who inhabited Lorca. Synthesized to the fullest, but completely portrayed. We will find the surreal, the loving, the laconic and torrential. Along with well-known poems, we will discover other less frequented poems of his production such as those dedicated to his friends, children's songs or those included in his epistolary.
MO Gutierrez Serna has dialogued with Lorca's work, giving rise to a refined illustration,
synthetic, the result of channeling the personal emotions derived from the reading of each poem and concrete them, from intuition, into pictorial images that play with the harmony of the obvious and the hidden.