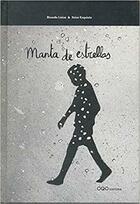 Year of publication:
2005
In the labyrinth of the city, a child must take care of the elderly, scare away ghosts, look for food ...
Trust that the magic of the word changes things, and that the night is not so cold.
This album deals in a literary way, the problems of abandoned children in the Brazilian streets. A book written from the perspective of a street man who wants to learn to write.
Thanks to this illusion, the little one recovers the hopes of getting out of the poverty and violence in which he finds himself
immersed.
Required reading, both for its aesthetic and literary beauty and for its social testimony because as long as social inequalities exist, and while there is ignorance and misery on earth, books
like this they will not be useless.