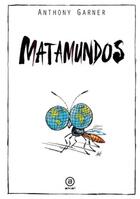 Year of publication:
2020
The panorama we face is devastating. We are facing the possibility of extinction of our species and of so many others on the planet, and all because of our ignorance and folly. The human being has become a destructive species, which could well be called the World Killer.
We still have time to rectify and turn this situation around, but for this we have to wake up. This book is like a small slap in the face, a voice of alarm so that we are aware that it is time to stop doing harm to the Earth: the polluted air, the food that we throw away, the plastic bags that we throw into the sea, global warming…, there is no planet that can bear it.
To illustrate all this, the author injects into his drawings a dose of humor (black on more than one occasion, never frivolous), the aim of which is that no one remains indifferent. They are an invitation to reflect and delve a little more...read more