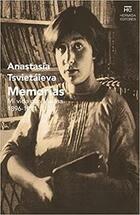 Year of publication:
2018
The book that we present is an essential document to get to know Marina Tsvietáieva and a great fresco of almost a century of History
In 1971 the first (anthological) edition of the Memoirs of Anastasia Tsvetaeva, writer and younger sister of the poet Marina Tsvetaeva, was published in Moscow, offering an astonishing review not only of the tormented life of the great Russian poet, but of the history of Russia since the beginning of the 20th century, marked by the Revolution of 1917.
With a concise and fluid prose, bordering on lyricism, Anastasía begins by recounting her daily life during childhood and adolescence within her family, belonging to the Moscow bourgeoisie and with intellectual concerns (her father founded the Pushkin Museum in Moscow). The book is a nostalgic journey through rich and intense lives and a world that sank after the First World War.
They ...read more