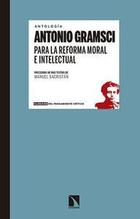 Year of publication:
2015
Gramsci's work has become, for some years, an essential reference for the analysis of our post-industrial societies and the understanding of social and cultural processes. The texts selected in this anthology form a broad overview of the ideas developed by Gramsci in the field of the struggle for social transformation: the discussion around the working councils and proletarian autonomy; the debate on hegemony and political domination; reflection on political passion, spontaneity and conscious direction, dialogue for convergence between cultures; defending popular culture and its specific problems. Gramsci's texts are small essays that concentrate a whole structure of rigorous and creative thinking oriented to social emancipation.
Augmented edition, with an introduction by Manuel Sacristán, and four new texts by Gramsci, the great renewer of Marxist thought.