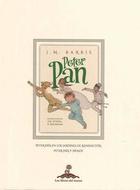 Year of publication:
2019
Delve into the funny story of Peter Pan, the kid who didn't want to grow up.
This careful edition brings together the two stories the author dedicated to Peter Pan (Peter Pan in Kensington Gardens and Peter Pan and Wendy), and are accompanied by illustrations that for both accounts created two of the most celebrated illustrators of all time: Arthur Rackham and Mabel Lucie Attwell.
After reading both stories, the reader will discover a new dimension of Peter Pan and Wendy. A real literary event.
This new edition replaces the one we previously had published in large format and with case to make it more affordable without losing in the quality of the edition.