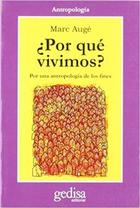 Year of publication:
2004
The question of why we live is only posed by us, Westerners, because in our societies, after the end of ideologies, a feeling of emptiness has spread and the need to give a meaning to one's own life.
This crisis of meaning began in the 1970s, and it was precisely the ethnologists who had the opportunity to diagnose their symptoms. That is why ethnology and anthropology know more than other disciplines about our current ambivalences. We look for comforts, but we pay them at too high a price, letting ourselves be enslaved by life projects that prevent us from seeing other possible routes and goals.
Marc Augé warns us about the danger of globalization and its false promises. However, we have never been so close to being able to see our ends as they really are: the practice of fraternity and solidarity, the exercise of thought and the search for knowledge.