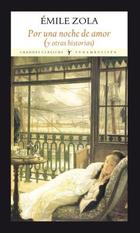 Year of publication:
2016
The immense novelistic production of Emile Zola (1840-1902) has traditionally shifted to the background the relevance of his short narrative work, less copious, but not of inferior literary quality. In recent years, however, this landscape has changed with the well-deserved revaluation of his stories and stories.
The selection of this small anthology is not due to random laws or editorial whims, but to literary criteria that have their first meeting point within the framework of The Messenger of Europe, a prestigious Russian magazine with which Zola regularly collaborated between 1875 and 1880. As the translators (Gonzalo Gómez Montoro and Rubén Pujante Corbalán) require in their postface, in some cases the texts had not been translated back into Spanish for more than a century.
From the passion conditioned by social classes, to the psychological study of the marriage of ...read more