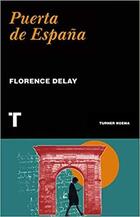 Year of publication:
2017
Binding:
Rústica con solapas
"My 'door to Spain' were books. It was first reading and translating that I discovered the country to which I owe so much"
Uniting her passion for literature, theater and travel, Florence Delay reconstructs the path that led her to the writers who awakened her passion for Spain.
Puerta de España is a first-person tour of the career, interests and activity
intellectual life, and also a journey back in time, from Calderón de la Barca to García Lorca, from the golden century to the generation of 27, from Celestina's ingenuity to Ramón's dreams, in an almost living dialogue with the authors and works that have built the vital landscape of the author.
For the Spanish reader, a whole rediscovery and a guide that will help you see her usual authors with new eyes. And to read or reread them with the subtlety, emotion and pleasure of one of our best Hispanicists.