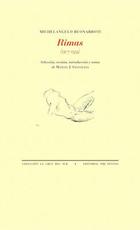 Year of publication:
2012
I love you more than I had ever loved me
and I'm worth more since your figure
He lives in my heart, like a sculpture
better even than the block does not cut.
As a sheet written or drawn
a piece worth more without writing,
valgus, since the venture joy
that your eyes have pointed out to me.
With that sign, firm, where he arrived,
as bearing talisman or sword,
I care less and dangers.
With your sign I give birth to all blind,
I vanquish fire, and ice water
and my healthy sputum poisons.
Michelangelo Buonarroti (Florence, 1475 Rome 1564), one of the giants of the arts of all time, whose genius was unveiled in his hometown thanks to the auspices of Lorenzo de 'Medici and flourished in Rome under the papal patronage was also an extraordinary poet. Its production line was long considered minor compared t...read more