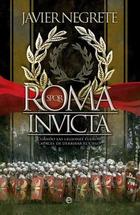 Year of publication:
2013
"But did you not realize that even if you had destroyed me, the Roman people have such legions that they could not only defeat you, but even bring down heaven?" Julius Caesar
This story begins in 146 BC when the Romans, after adding Greece to their many provinces, waged their third war against Carthage. The Carthaginian defended themselves with nails and steel but could do nothing in the face of the unbeatable power of the legions commanded by Scipio Emiliano.
After Carthage Numancia fell; Mario defeated Yugurta and then faced the threat of the mysterious northern villages; Pompey swept through the riches of the East and Caesar conquered the Gauls. However, despite their might beyond their borders, the Romans were mired in bloody infighting that their enemies were unable to take advantage of. After each civil war, the Republic rose again and again, always increasing its ...read more