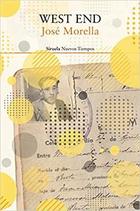 Year of publication:
2020
Binding:
Rústica con solapas
CAFÉ GIJÓN NOVEL PRIZE 2019
"José Morella writes with poetic simplicity and his antisolemnity is a lesson to follow."
Elena Poniatowska, Cervantes Award 2013
Nicomedes Miranda has spent the first fifty years of his life hardly ever leaving his town. All the balance that his fragile mental health enjoys is due to routine, to his simple life in the country. But the arrival of mass tourism in Spain augurs a more prosperous life for his four children, and the entire family emigrates to a place in the Mediterranean that he does not even know the name of: an island in full swing that is now the epicenter of a radical change in the way of living and feeling, a fresh air that scares the clumsy and sordid late Francoism. Gone will be for Nicomedes his landscape and his profession, his many affections and his less and less assurances ...
West End tells us about the ph...read more