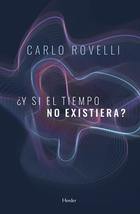 Year of publication:
2019
Encuadernacion:
Rústica con solapas
An invitation to reflection and discovery of science with a content that prepares the reader to understand the new and fascinating paradigms of contemporary physics.
The birth of the universe, the fate of black holes, the reality of time, quantum mechanics or the theory of relativity are some of the protagonists of this title. Objects of study of both physics and ancient philosophy, these fascinating concepts entail a difficulty of understanding that is often impossible for the non-specialized public. However, its author, Carlo Rovelli - a theoretical physicist and one of the initiators of the theory of loop quantum gravity - speaks to us about these issues in a transparent manner, with a clear awareness of the subject.
In What if time did not exist? Rovelli asks about the whole of science, its relations with other areas of knowledge and its role in society. This book is...read more